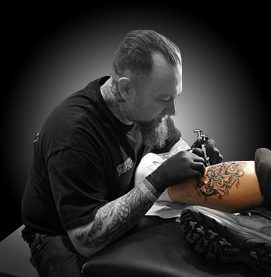 Matt Stankis is a owner and tattoo artist at Northside Tattoos in Wilmington, Delaware. He began tattooing in 1992 in Baltimore, Maryland. Matt has also worked at shops in West Chester, Pennsylvania and New Castle, Delaware. He co-founded Northside Tattoos in the Bellefonte section of North Wilmington, DE in 2004.
An award-winning tattooer, Matt is known for his incredible use of bright colors and super-clean linework. While Neo-Traditional is Matt's signature style, he also enjoys most forms of tattooing such as Black & Grey, Traditional Japanese, American Traditional, Celtic, Illustrative & more. Whatever you're into, you're guaranteed to get a solid tattoo by Matt.
He has been featured in various local, national and international publications. He has published a flash sketchbook, Tattooable Pinstriping Designs, which is available here and by many companies as a reference book for professional tattooers. Many pinstripers find his book useful as a design resource, as well. An accomplished pinstriper, Matt loves to bring that art form into his tattooing and is well known for the super clean lines that a solid pinstriping tattoo demands.
Matt is available for tattoo appointments at Northside Tuesdays through Saturdays.